Services
Serving the industry since 1942, we are a gear specialized workshop, since then we have gained wide experience seeking and providing different services for the needs of our customers.
Cutter Sharpening
We have sharpening machines from leading brands like Klingenberg, Maag, Gleason, Reinecker, Hurth, specialized for each type of cutter, we can sharpen any cutter for gear.
We design and manufacture Hobs.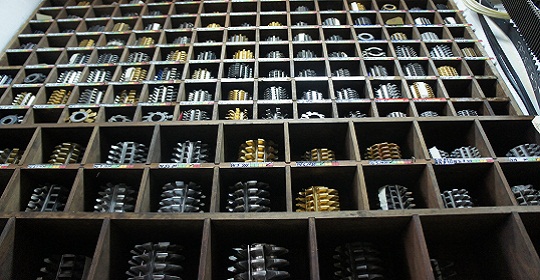 Reverse Engineering
Gear Repair Services
We have different methods of repair and restoration of gears, depending on the application we can take for example change toothed, gear segments assemblies, individual teeth recovery, this gives a great benefit to our customers.
Reducer Repair
We have a specialized area for reducer repair and some of the activities we do are the disassembly and assembly for maintenance, bearing replacement, Reverse Engineering, reducer load test, gear and housing inspection, machining and boring box of accommodation, nondestructive testing.
Profile Grinding
El rectificado de dientes de engranes cilíndricos y el rectificado de flancos en sinfines son realizados  para piezas de precisión logrando con ello eliminar distorsiones ocasionadas por el tratamiento térmico este proceso es el requerido en piezas de alta velocidad, las cuales requieren un control riguroso de la geometría del perfil en contacto. Mediante éste obtenemos engranes con calidades ANSI-AGMA A5 (Q12), ISO 5.
Special pitch gear
We have gear carved technology of any step and special module, (outside standards), this type of service is responsible for repowering gears, design improvements or modifications that enable better performance or any specific application.
Generated Gear
The greatest strength of our company is the generator of the teeth, the great infrastructure in machinery leader in the field allows us to offer exceptional service, quality and delivery time. We can offer times of generated in the same day. Metric steps from module 1 to module 40 and diametrical Step from DP24 to DP0.64. Cylindrical Gear up to 3000mm and Bevel Gears up to 800mm in ground (inquire about Spiral bevel to 3000mm) *